2017-2018 STENNIS, BARBOUR, COLLINS, AND ALLEN SCHOLARS
A jpg picture-perfect version of this picture is available here.
Marisa Laudadio (on the left in the front row) is a sophomore Stennis Scholar from Walnut, Mississippi, double majoring in political science and communication. Her goal is to someday work for a public policy center or university conducting political communication research pertaining to public opinion and teaching civic engagement classes. At MSU, Marisa is involved in the Shackouls Honors College, National Society of Collegiate Scholars, Lambda Sigma Sophomore Honors Society, Stennis Montgomery Association, No Lost Generation, Mississippi Votes, and the Dean's Student Advisory Council for the College of Arts & Sciences. She also serves as assistant Secretary General for the MSU Model United Nations chapter. Additionally, Marisa works as a communication assistant for the Office of Agricultural Communication and as an undergraduate research assistant at the Social Science Research Center. Her areas of research include health communication and discovering new ways to measure and effectively convey public opinion about controversial issues. This past summer, Marisa attended Mississippi N.E.W Leadership and conducted research through the Shackouls Honors College's Summer Research Fellowship.
Emily Tingle (2nd from the left in the front row) is a sophomore Stennis Scholar from Warren Central High School in Vicksburg, Mississippi. She has served as President of the Rho Kappa Social Studies Honor Society, and as Quiz Bowl Team Captain. Committed to improving public education in Mississippi, she campaigned for Initiative 42, among other political activities. Emily is the founder of "37 Books," a foundation that promotes literacy among our state's foster children by raising money and providing books to children's homes and centers. At MSU she is involved in the Stennis-Montgomery Association, College Democrats, Pre-law Society, Alpha Lamda Delta Honors Society, and the National Society of Collegiate Scholars. She is a member of Shackouls Honors College and serves on the Honors Recruitment Council. She is currently the Director of Public Relations of MSU's Student Association. Emily is also a Maroon Edition Essay winner, served on Homecoming Court as Freshman Maid, and is a member of Zeta Tau Alpha Fraternity. Emily plans to attend law school and practice family law, and to then seek elective office. Her goal is to improve and revise the foster care system in Mississippi.
Kennedy Moehrs (2nd from the right in front row) is a senior majoring in Political Science with Spanish, pre-law, and history minors from Waterloo, Illinois. Kennedy is currently in her second year of serving as the President of the Stennis Montgomery Association. She was named a 2016 William A. Demmer scholar and that summer completed an internship with the National Cotton Council of America's Governmental Affairs Office in Washington DC. Kennedy is also a Haley Barbour Scholar and a member of the Political Science academic fraternity, Pi Sigma Alpha. At MSU Kennedy has been involved in various organizations on campus including the Student Association, serving as Co-Director of Diversity and Outreach, Mississippi State College Democrats, serving as the President and Founder, and Nightmare, Mississippi State's Women Club Ultimate Frisbee Team serving as a Co-Captain. Within the Starkville community Kennedy has been active with the Oktibbeha Federation of Democratic Women and the Oktibbeha County Democratic Executive Committee. This past summer Kennedy studied Winston Churchill and his military strategy at the University of Oxford in Oxford, England as a Tip Allen Scholar. She plans to pursue a career in public defense after completing law school and then begin her journey into public office in hopes to become the governor of Illinois.
Pennie Frith (on the right in front row) is a junior Bill Collins Scholar. Pennie is from McComb, Mississippi, and graduated from Jones County Junior College. A Dean's Scholar for both semesters at MSU, she is a member of Phi Theta Kappa, a student Senator in the College of Arts and Sciences, and Committee Chairman for Infrastructure and Capital Development. Pennie intends to seek a federal government internship, preferably with the Justice Department, and to obtain a law degree and eventually a PhD degree.
Charles Allen Barbour (on the left in the back row) is a sophomore John C. Stennis Scholar from Jackson Preparatory School. He was elected Attorney General at Boys State, served as a U.S. Senate page, and served as Senior Captain of his high school's Debate Team. Allen is also an Eagle Scout, attended Youth Legislature, and campaigned for Senate Thad Cochran's re-election. He is currently serving as Executive Director for the state Students for Rubio Presidential Campaign. He plans to attend law school after graduation.
Kyle Glynn (2nd from the left in back row) is a junior Tip Allen Scholar majoring in political science with a minor in pre-law. He is a graduate of St. John High School in Plaquemine, Louisiana, where he served as Student Body President, Captain of the robotics team, and graduated Valedictorian. He also had the chance to enhance his leadership skills at the Louisiana Youth Seminar. At Mississippi State, Kyle participated in several service opportunities such as the Day One Leadership Program and as a site leader for Service Dawgs Day. As a freshman in the spring of 2016, he was one of a small group of Mississippi State students selected to attend the Georgia Collegiate Leadership Conference. An avid outdoorsman, he is a member of the Mississippi State Bass Fishing Team and was elected to the Student Association Senate as a representative of recreational student organizations. His passion for the outdoors and the political process led him to intern with the Congressional Sportsmen's Foundation in Washington, D.C. in the summer of 2017. He plans on attending law school after graduation.
Jacorius Williams (2nd from the right in back row) is a junior Bill Collins Scholar, who is from Biloxi. Jacorius is a member of MSU's Speech and Debate Team, the Pre-Law Society, College Democrats, and three academic societies. His community service revolves around the Zion Hill Baptist Church, hosting college prep events in his home county, and helping MSU freshmen adjust to college life as a member of Freshman Council. Jacorius plans to attend law school and to eventually run for public office.
Jose Vasquez (on the right in back row) is a junior Bill Collins Scholar, who is from Philadelphia Mississippi. Jose studied in California at Pasadena City College and at Azusa Pacific University, where he worked with Viva Azusa, a group helping underprivileged Hispanics. Having served as a photography intern at VVV Magazine, he now interns in the MSU College of Arts and Sciences office. Jose's career interests relate to the public service, using the media to portray unheard voices in our society.
Our student scholars are so active professionally that many were not able to be present at the college award ceremony where the group picture was taken. Their bios follow:
Sarah Love Frey is a sophomore Stennis Scholar from Jackson Preparatory School in Jackson, Mississippi. Her considerable community service work includes tutoring and volunteering for the Neighborhood Christian Center and relief work in Peru, and has been recognized with two Presidential Community Service Awards. Graduating with a Classical Heritage degree, Sarah Love has received national recognition in exams in Latin and Greek, and has excelled at Junior Classical League Convention. She has been a volunteer in a circuit court campaign and for Greg Harper's Academy Day. Interested in gene-modified crops, Sarah Love aspires to become a lobbyist for agricultural legislation that will increase the quality and quantity of the world's food supply.
Kasia Hayes is a senior Bill Collins Scholar. Kasia is from Grenada, MS and has participated in Girls State and many community service activities. She has been active in MSU's Speech and Debate Team, the NAACP, Black Voices Gospel Choir, and three honor societies. Kasia plans to pursue law school with a primary focus on civil rights law.
Sean McCarthy is a senior Haley Barbour Scholar and a Tip Allen Scholar. A native of Sioux City, Iowa, Sean is co-director of Diversity and Outreach for the MSU Student Association. He is also an MSU Tour Guide with Maroon VIP, competes on the MSU Speech and Debate team, acts with Theatre MSU, is a Freshman Navigator, and is a member of the Stennis-Montgomery Association, and the MSU College Democrats. Sean interned with the Human Rights Campaign in the spring and fall of 2016, and interned with Tammy Baldwin (D-WI) in the summer of 2016. He interned with the Brady Center & Campaign to Prevent Gun Violence in the summer of 2017 as an Allen Scholar. Sean is double majoring in political science and communication, and plans to enter into the Nonprofit sector as a development officer.
Melissa Weitzel is a senior John C. Stennis Scholar and a Haley Barbour Scholar. A resident of Gulfport, she is a graduate of St. Patrick Catholic High School in Biloxi. Actively involved in organizations throughout high school, Melissa was President of her school's chapter of National Honor Society and Vice-President of Spanish Honor Society. Melissa's most notable involvement during high school was with Mississippi Youth and Government. Within that organization, she held numerous positions such as Speaker Pro tempore and Committee Chair, and attained awards such as the Most Outstanding Legislator. Through Mississippi Youth and Government, Melissa was elected as the Youth Governor of the State of Mississippi, which allowed her to attend YMCA's Youth Governors Conference in Washington, D.C. While attending Mississippi State, Melissa has earned a third place award at the Martin Luther King Jr Orator Competition, is treasurer of the Stennis-Montgomery Association, and is on the President's list. She is also the Chancellor and founding member of the budding Mississippi Speculative Debate Society and a student in the Shackouls Honors College. Over the summer she attended Mississippi N.E.W. Leadership conference, was a counselor at Mississippi State's W.E. Lead, and a district intern for Congressman Steven Palazzo. Her plans for the future include working for an international human rights organization with a focus on ending war crimes.
Andrew Yates is a senior John C. Stennis Scholar and a Tip Allen Scholar. He is a graduate of Grace Christian School in Louisville. While in high school, Andrew was elected Student Body President in his senior year, and served as Student Council Vice President the previous year and as Student Council Representative the two preceding years. He has participated in numerous leadership programs, such as the Hugh O'Brian Leadership Conference, the EMEPA Youth Leadership Conference, and the Boy Scouts. A member of Winston County Teenage Republicans, Andrew has campaigned for Governor Phil Bryant, former governor Haley Barbour, and Congressman Gregg Harper. He also has athletic talents, lettering and serving as team captain of his school's basketball team, and being manager of its baseball team for four years. Andrew interned with Congressman Greg Harper in the summer of 2017 as an Allen Scholar. He plans to attend law school and to eventually work in the Republican party.
New departmental scholars who have just graduated include:
Megan Costilow, a Tip Allen Scholar. A native of Holcomb Mississippi, Megan observed court and law office procedures in a private law firm in Grenada in 2015, and then interned for the 5th Circuit Court Attorney in Grenada in 2016. As an Allen Scholar, she interned with District Attorney's (Doug Evans) Office in Grenada in 2017.
Kathleen Kiernan, a Tip Allen Scholar. A native of Woodstock, Georgia, Kathleen served on the MSU Student Association Cabinet as co-director for Community and Governmental Relations. She was active in the Mississippi Model Security Council and in the Stennis-Montgomery Association (SMA). In the Spring 2016 Kathleen traveled to Washington D.C. with the SMA, and that summer as an Allen Scholar she interned in the district office for U.S. Congressman Barry Loudermilk from Georgia. In the summer of 2017 after being renewed as an Allen Scholar, she interned in Washington D.C. as a Demmers Scholar (a Michigan State-MSU partnership). She graduated Summa Cum Laude as a political science major, while minoring in French, and is interested in graduate school to study health policy or international development policy, as she hopes to work for an NGO or a non-profit.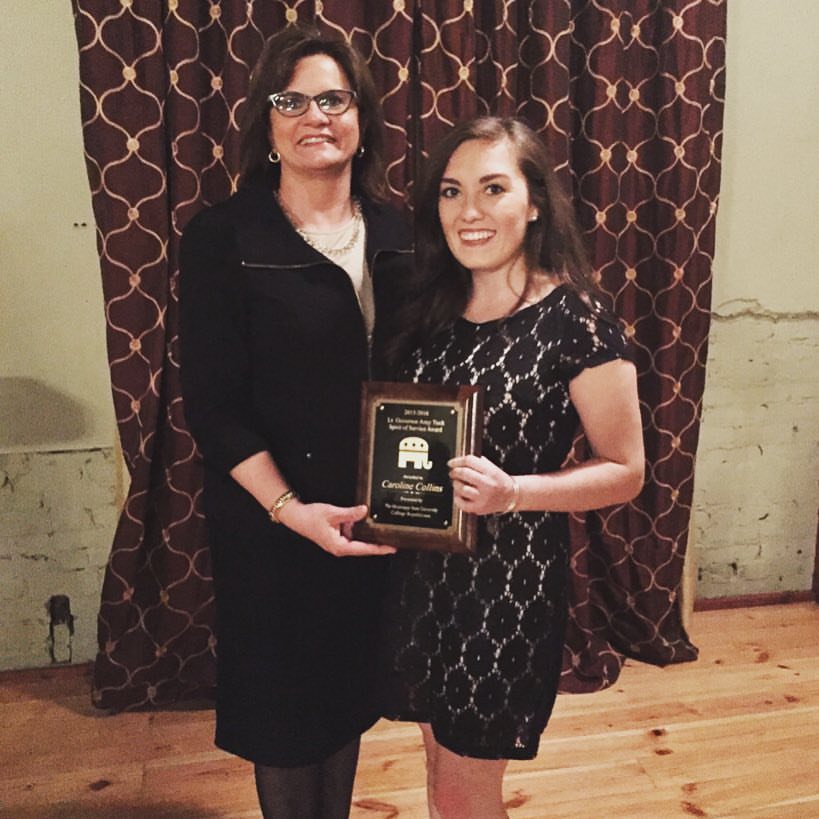 Caroline Collins (pictured above with Amy Tuck) of Bay Saint Louis is our most recent Stennis alumnus. An inductee into the Society of Scholars, Caroline maintained a 4.0 GPA each semester. She was a member of Kappa Delta Sorority, Phi Kappa Phi Honor Society, the National Society of Collegiate Scholars, and MSU Involvement Ambassadors and is a former President of the Stennis-Montgomery Association and the Mississippi State Freshman Class. She served as Senator of the College of Arts and Sciences, Chairman of the Mississippi State College Republicans and Chairman of the Mississippi Federation of College Republicans. Additionally, Caroline served as a United States Senate Page for Senator Thad Cochran, an intern for US Congressman Steven Palazzo, and studied in Rome. After being selected to attend the AIPAC Policy Conference in D.C., Caroline was chosen for an expenses-paid trip to Israel where she learned about the intricacies of the U.S.-Israel alliance. In her last semester at MSU, Caroline became the first recipient of the Lt. Governor Amy Tuck Spirit of Service Award for her work in rebuilding the MSU chapter of College Republicans. Caroline is starting her second year of law school at Washington University School of Law in Saint Louis. She finished her first year as an Honor Scholar, and interned in the U.S. Attorney's Office for the Southern District of Illinois working in the civil division that summer. She is serving as a Staff Editor for volumes 95 and 96 of the Washington University Law Review.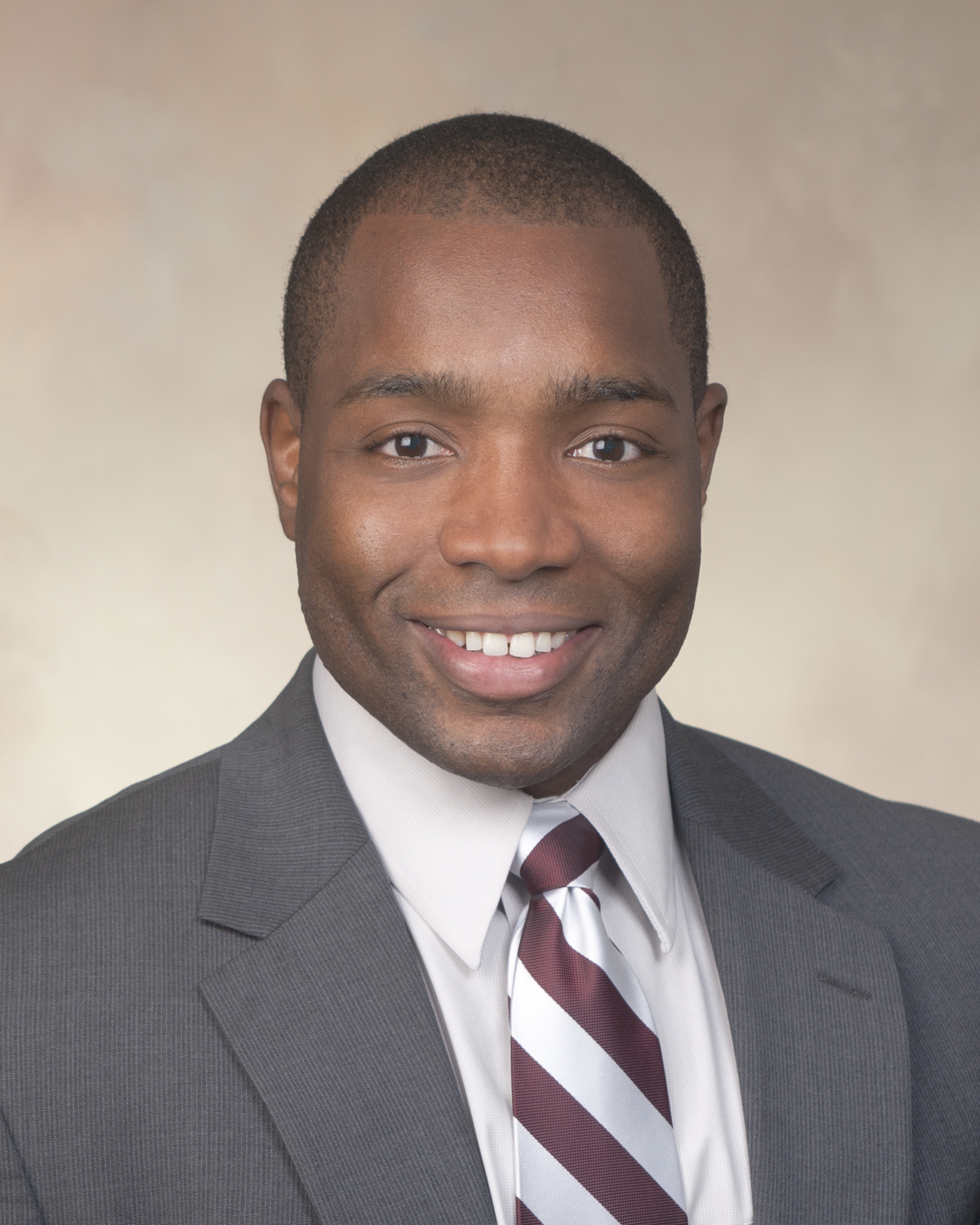 One of our Bill Collins alumni is Brian Pugh, pictured above. As the Deputy Executive Director of the Mississippi Department of Finance and Administration, Dr. Pugh manages 6 of the 19 offices in the Department. Previously, he served as Director of Finance for Governor Phil Bryant, and before that as a Budget Analyst for the Legislative Budget Office of the Mississippi Legislature. After receiving his BA in Political Science and his MPPA degree from MSU, he earned a PhD from Jackson State University. As an undergraduate Collins Scholar, Brian was President of the Pre-Law Society, and was active in the Stennis Montgomery Society and in Pi Sigma Alpha.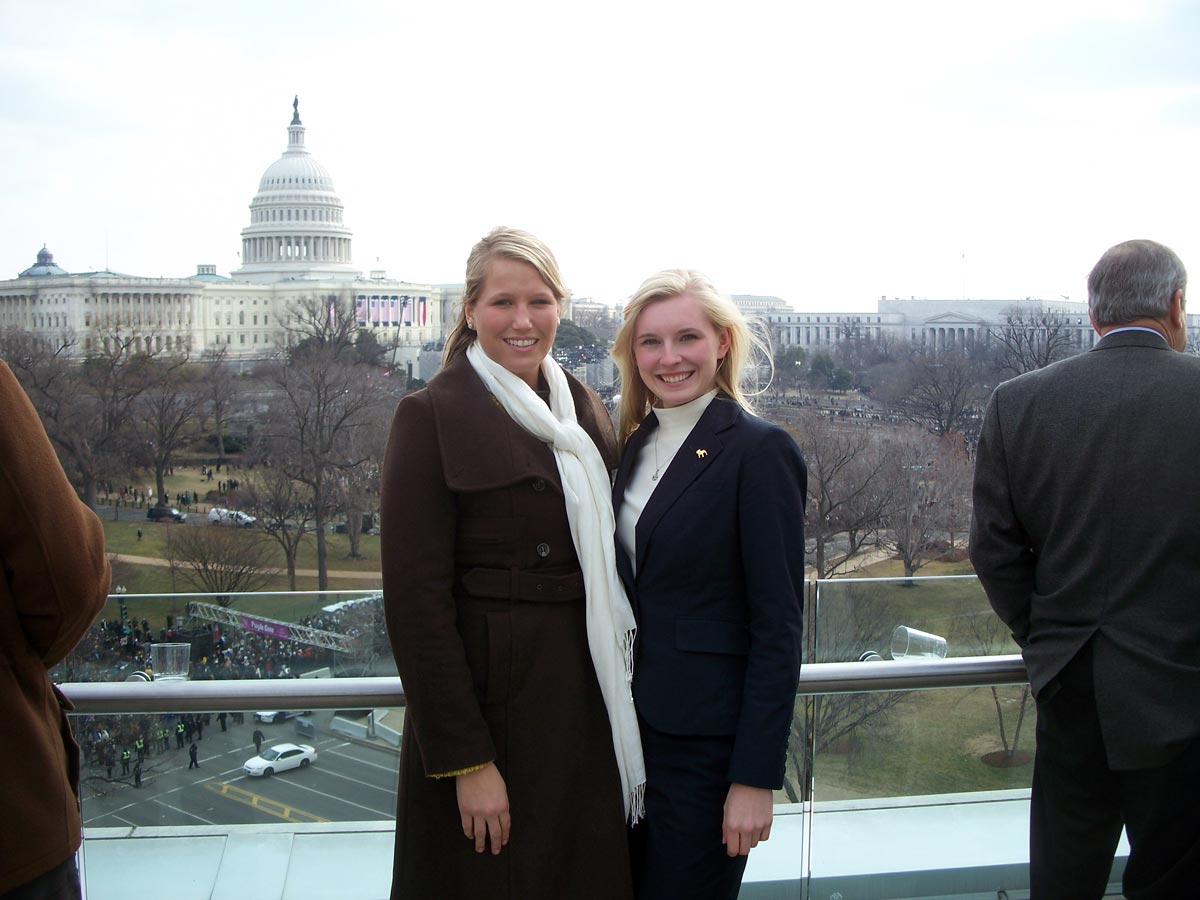 Stennis Scholar alumni Whitney Holliday and Shelley New enjoyed a view of Washington, D.C., while attending the inauguration of President Obama as students as part of the Stennis-Montgomery Association's annual D.C. trip. They are shown in the photo above.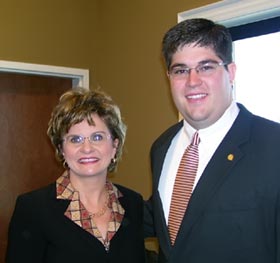 Students in our department have the opportunity to meet prominent public officials, such as the governor and lieutenant governor. In the photo above, Stennis Scholar (now alumnus) and SA Vice President Lee Weiskopf met with 2-term Lieutenant Governor Amy Tuck, a graduate of our department.
In the picture above, Barbour Scholars (now alumni) Jane Anna Harris and Tonya Thorton-Neaves pose with 2-term Governor Haley Barbour after a breakfast with him and the MSU President. Barbour offered the students invaluable advice about networking and job hunting in Washington, D.C. After graduation, Jane Anna served as the Staff Director for the Senate Agriculture Committee, and Tonya is a Research Fellow and Project Coordinator at the Social Science Research Center at MSU.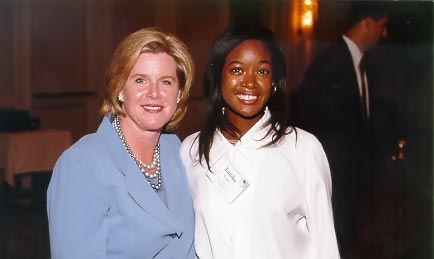 One annual conference that some of our students attend is the Southern Women in Public Service program sponsored by the Stennis Center. In the photo above, Stennis Scholar (now alumnus) Tamikia Carr met with then-Vice President Al Gore's wife, Tipper.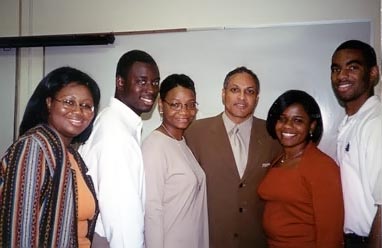 Our students also meet with numerous other public figures who visit our department. In the above photo, political science students (now alumni) Nikita Gandy, Ben Needham, and Ta'Shia Shannon (a Collins Scholar alumnus) are to the left of former Congressman Mike Espy. Espy was the first African-American from a rural district elected to Congress. Students Yashica Tate and Terrance James are to the right of Espy.
Our department's John C. Stennis Scholars are named in memory of MSU alumnus John C. Stennis, who served in the United States Senate from 1947 to 1988, rising to the powerful position of President Pro Tempore of the senate and fourth in line for the presidency. Senator Stennis also served as chairman of the powerful Appropriations Committee and previously as chairman of the Armed Services Committee. He was so respected in the senate that Congress named a new nuclear-powered aircraft carrier after him, which was commissioned into service before the carrier honoring former president Harry Truman. Because John Stennis inspired Mississippians to be active in public affairs, we include our department's Bill Collins (the founding director of the Stennis Institute of Government) and Haley Barbour (our two-term governor and a formidable Stennis challenger in 1982) scholars on this webpage.
To learn more about Senator John Stennis, click here.
The Haley Barbour Scholars are named after a distinguished public servant and native of Yazoo City who rose to the position of Chair of the Republican National Committee. As RNC Chairman, Haley Barbour inaugurated an aggressive fundraising, public relations, and candidate assistance program that led the GOP in 1994 to majority control of both houses of Congress for the first time in 40 years. Barbour was elected Governor in the 2003 state elections, when for the first time Republicans won half of Mississippi's statewide executive offices as well as historically high percentages of state house and state senate seats. When Barbour was re-elected governor four years later, he swept his party to control of every statewide elected office with one exception.
The Bill Collins Scholar is named after a distinguished educational leader, who was the first Director of the John C. Stennis Institute of Government at Mississippi State University. A Bill Collins Speakership series was established in his honor in the MSU Library.
The Tip Allen Scholars are named after retired (now deceased) professor Tip H. Allen Jr., whose decades of teaching political science at MSU helped so many of our students that he was awarded the department's outstanding teaching award on two occasions. One student whom he mentored went on to become an MSU President (Dr. Malcolm Portera, who then became the Chancellor of The University of Alabama System).