2018-2019 POLITICAL SCIENCE SCHOLARS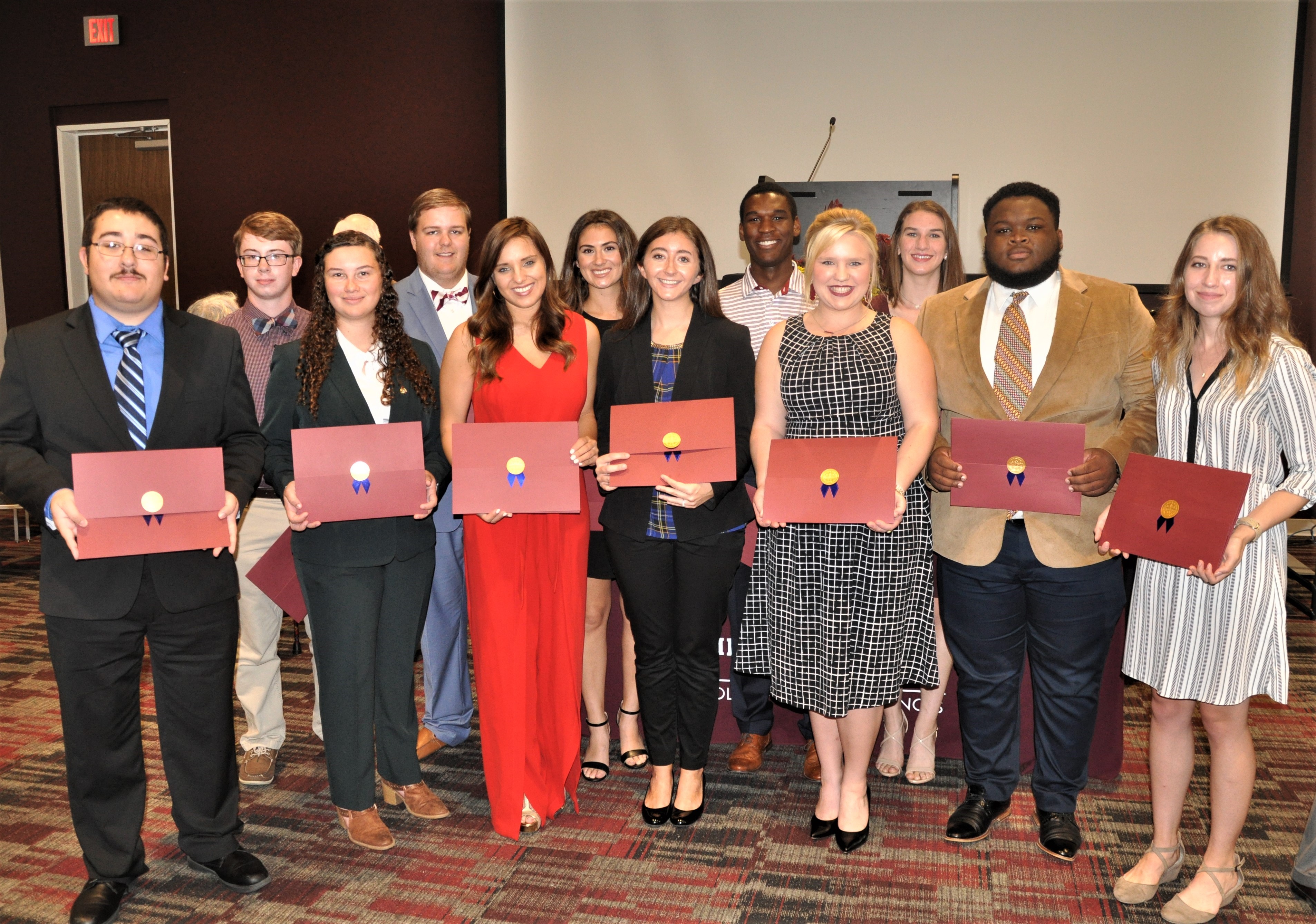 A jpg picture-perfect version of this picture is available here.
Zachery Abunemeh (on the left in the picture above) is a senior Tip Allen Scholar. A member of the Shackouls Honors College at MSU, Zachery is also a member of the Stennis Montgomery Association, Young Democrats, and the Muslim Student Association. He is also an opinion writer for the student newspaper, the Reflector, and served as an interviewer for the survey research company ReconMR. This summer, he interned with the National Organization for Black County Officials (NOBCO).
Jacob Wubben (next to him) is a freshman Stennis Scholar from Starkville High School. A well-rounded person with diverse interests, Jacob is a National AP Scholar with perfect scores in four subjects. His commitment to multiculturalism in this age of globalization is reflected in his study of two foreign languages. The CEO of the award-winning Starkville High robotics team, Jacob also served as Section Leader of the school's "superior" marching band. He plans to earn a PhD and join the U.S. diplomatic corps.
Gillian Jinkins (3rd from the left) is a junior Tip Allen Scholar who is majoring in Political Science and German with a minor in Pre-Law and International Studies. She is a graduate of Mendenhall High School, where she reinstated their student government and served as Student Body President. At MSU Gillian is a member of the Famous Maroon Band and has served as Historian of the Epsilon Chapter of Kappa Kappa Psi International Band Fraternity and is entering her second year as President, where she has led her chapter to win awards for Outstanding Service in the Southeast. She is currently starting a new multilingual literary journal at MSU called Sojourn, that will highlight different cultures and experiences. This summer she studied German language and culture in Berlin, Germany, and will also be serving the MSU International Institute as a Study Abroad Ambassador. This year Gillian is working with Dr. Lia Merivaki on a project involving voter education and state outreach. Gillian plans to pursue a Master's degree in International Relations with a focus on international law and a possible United Nations career.
Jonathan Bailey (on her right) is a freshman Stennis Scholar from Brandon, Mississippi. A Mississippi State Provost Scholar, Jonathan is a member of the Shackouls Honors College and the MSU College Republicans. At Brandon High School, Jonathan served as Student Body Treasurer and Chairman of the Mock Trial Team. He was selected as the Most Effective Attorney in the 2018 High School Mock Trial Competition by the Mississippi Bar. An Eagle Scout, Jonathan also served as President of the Brandon Mayor's Youth Council and as a Sunday School Teacher at Crossgates Baptist Church. Jonathan is currently working as a field representative for the Michael Guest for Congress campaign and has also interned with Cindy Hyde-Smith's US Senate campaign. After graduation, Jonathan plans to work for Mississippi's Congressional Delegation.
Emily Tingle (in the red dress) is a junior Stennis Scholar and a Haley Barbour Scholar. She is from Warren Central High School in Vicksburg, Mississippi. She has served as President of the Rho Kappa Social Studies Honor Society, and as Quiz Bowl Team Captain. Committed to improving public education in Mississippi, she campaigned for Initiative 42, among other political activities. Emily is the founder of "37 Books," a foundation that promotes literacy among our state's foster children by raising money and providing books to children's homes and centers. At MSU she is involved in the Stennis-Montgomery Association, College Democrats, Pre-law Society, Alpha Lamda Delta Honors Society, and the National Society of Collegiate Scholars. She is a member of Shackouls Honors College and serves on the Honors Recruitment Council. She is a member of MSU's Student Association, and served as the Director of Public Relations. Emily is also a Maroon Edition Essay winner, served on Homecoming Court as Freshman Maid, and is a member of Zeta Tau Alpha Fraternity. She was one of only 73 students nationally who attended the Harvard Kennedy School Public Policy and Leadership Conference. Emily plans to attend law school and specialize in domestic law for child custody cases, as well as to lobby for children's rights in the foster and education systems.
Mary Evan Ivy (on her right) is a senior Tip Allen Scholar from Clarksdale. Active in MSU's Student Association, she serves as a Senator from the College of Arts and Sciences, and is a member of the Community and Governmental Relations Committee. She has also served as Secretary of MSU College Republicans and as co-chair of Campaigning. Mary Evan is interning this year with the Mississippi Republican Party. She also participates in intramurals in three sports. This summer she interned with the House Administration Committee under Congressman Gregg Harper.
Marisa Laudadio (in the center of the picture) is a junior Stennis Scholar and a Haley Barbour Scholar. She is from Walnut, Mississippi, and is double majoring in political science and communication with minors in Spanish and International Studies. Her goal is to someday work with an international nonprofit in Latin America helping orphans and at-risk youth. At MSU, Marisa is involved in the Shackouls Honors College, Stennis Montgomery Association, No Lost Generation, Mississippi Votes, the Latino Student Association, Public Relations Student Society of America, and the College of Arts & Sciences Ambassadors. She also serves as Head Secretary General for the MSU Model United Nations chapter. Additionally, Marisa works as a communication assistant for the Office of Agricultural Communication and previously worked as an undergraduate research assistant at the Social Science Research Center. Her areas of research include health communication and discovering new ways to measure and effectively convey public opinion about controversial issues. In her first summer at MSU, Marisa attended Mississippi N.E.W Leadership and conducted research through the Shackouls Honors College's Summer Research Fellowship. In her sophomore year, she won an Outstanding Delegate Award representing MSU's Model UN chapter at the Southern Regional Model UN Conference in Atlanta, represented the MSU Honors College at the National Collegiate Honors Council conference, and was one of only 73 students chosen nationwide to attend the Harvard Kennedy School Public Policy and Leadership Conference. This past summer, Marisa interned for a national nonprofit that works with at-risk youth and foster care reform. She also served as a counselor for the MSU Shackouls Honors College "WE Lead" conference, which teaches high school girls about women empowerment and leadership.
Walter Goss (on her right) is a Charles Menifield Scholar and a Tip Allen Scholar. A senior from Tupelo, Walter has repeatedly been named President's Scholar based on his high grade point average. He has been active as an MSU Student Association Senator and as a Pre-Law Society member. As a Stennis Montgomery Association member, he participated in a week-long Washington D.C. trip. Walter also served as Secretary for Sigma Chi Fraternity, and has interned with a law firm. This summer he interned with Congressman Gregg Harper in D.C.
Flannery Egner (4th from the right) is a freshman Stennis Scholar. A graduate of Center Hill High School in Olive Branch, Flannery served as President of the Interact Club, being active in projects raising autism awareness and fighting world hunger and poverty. A Mississippi Scholar and founding member of her school's Youth and Government club, she was also an active Student Council Representative, member of National Honor Society, and served as Freshman and Sophomore Class Secretary. Named an Outstanding Senator at the Mississippi Youth Legislature, Flannery plans to serve Mississippi after graduation as a state legislative staff member, with intentions of one day serving in The White House as a senior staff member.
Sae Frey (on her right) is a junior Stennis Scholar from Jackson Preparatory School in Jackson, Mississippi. At MSU, Sae is a part of the Pi Sigma Alpha Honors Society, and is involved in the Shackouls Honors College, No Lost Generation, Tri Delta, the Wesley Foundation, and the Agronomy Club. In the summer of 2017, Sae studied political economy and demography in Italy with Cornell University, and in the summer of 2018, she studied with Kings College London. Sae is interested in both crop plant breeding and international affairs and policy, but plans to pursue a career in the latter. She hopes to get a masters degree in foreign policy and go on to work in that field.
Jacorius J'quon Williams (2nd from the right) is a senior Bill Collins Scholar, who is from Biloxi, Mississippi. He is majoring in political science with a minor in Pre-Law. J'quon is involved in MSU Pre-Law Society, College Democrats, Stennis Montgomery Association, Model United Nations chapter, National Society of Collegiate Scholars, and Phi Sigma Pi National Honor Fraternity. He also serves as Vice President of Minority outreach for MSU's Pre-Law Society in hopes of diversifying the legal profession. His community service revolves around the Zion Hill Baptist Church providing a mentor for young black men in his hometown. Two summers ago, J'quon partnered with Black Girls Rock of MS Inc. to host an educational outreach program to rural areas of South Mississippi, which was a huge success due to the awareness brought to it by the local news coverage and the awesome turnout. This past summer he completed an internship with Huntington Ingalls Incorporated, which is the number one ship provider for the United States Navy. This upcoming summer prior to law school, he plans to travel to Honduras with Global Legal Empowerment Brigades to provide legal services to families in rural villages. J'quon plans to begin law school in the fall of 2019. He's goal is to pursue a career in commercial law with an emphasis on white collar criminal litigation and eventually run for President of the United States of America.
Rebekah Barfield (on the far right) is a Marty Wiseman Scholar and a Tip Allen Scholar from Brandon. Her considerable community service activities include having served as the Communications Coordinator at MSU's Baptist Student Union (BSU), serving as a teacher and group leader for the children's ministry at Starkville's First Baptist Chuurch, and participating in relief efforts in Memphis and Louisiana. Rebekah has extensive work experience creating and managing social media accounts at BSU and as a student assistant in the Special Collections department of the MSU library. This summer, she interned with the National Cotton Council of America through the Washington D.C. Demmer Scholars program.
Not pictured this year (pictured last year) are:
Charles Allen Barbour is a senior John C. Stennis Scholar from Jackson Preparatory School. He was elected Attorney General at Boys State, served as a U.S. Senate Page and served as Senior Captain of his high school's Debate Team. Allen is also an Eagle Scout, attended Youth Legislature, and campaigned for Senate Thad Cochran's re-election. He served as Executive Director for the state Students for Rubio Presidential Campaign and also assisted the Perry Parker for Congress campaign as the Director of the Northern part of the District. As a junior, Allen joined Mississippi State Army ROTC after completing two years as a Chemical, Biological, Radiological and Nuclear specialist with the Mississippi Army National Guard. He also joined the Mortar Board Senior National Honor Society and the Order of Omega Greek Honor Society. He found a passion for law when he joined the Pre Law Society and was elected as the Treasurer. Allen continued his education of law at the London School of Economics where he studied the English Legal System this past summer. This year, Allen currently serves as the President of the Pre Law Society, the Director of Communications for Mortar Board, and the assistant S-4 for Army ROTC while still maintaining membership within his fraternity Sigma Alpha Epsilon. He plans to attend law school after graduation in May 2019.
Pennie Frith is a senior Bill Collins Scholar. Pennie is from McComb, Mississippi, and graduated from Jones County Junior College. A Dean's Scholar for all four of her semesters at MSU, she is a member of Phi Theta Kappa, Omicron Delta Kappa, Stennis Montgomery Association, Sigma Gamma Rho, was a appointed student Senator in the College of Arts and Sciences, and Committee Chairman for Infrastructure and Capital Development. Pennie intends to seek a federal government internship, preferably with the Justice Department, and to obtain a law degree and eventually a Master Degree in Public Policy at State.
Kyle Glynn is a senior Tip Allen Scholar majoring in political science with minors in pre-law and economics. He is a graduate of St. John High School in Plaquemine, Louisiana. At Mississippi State, Kyle participated in the Day One Leadership Program, as a site leader for Service Dawgs Day, and was one of a small group of MSU students selected to attend the Georgia Collegiate Leadership Conference. He was elected to the Student Association Senate as a representative of Competitive Sports/Recreational student organizations and also chairs the Committee on Government Relations and External Affairs. An avid outdoorsman, Kyle is a member of the Mississippi State Bass Fishing Team. It was his passion for the outdoors and the political process that led him to intern with the Congressional Sportsmen's Foundation in 2017 as a Brad Rowse Policy Fellow. Kyle was then a legal intern with the Association of Fish and Wildlife Agencies as a Demmer Scholar in 2018, where he completed legal research projects and wrote content for the Summer 2018 edition of the Wildlife Law Call newsletter. After graduation, Kyle plans on attending law school at Louisiana State University and pursue a career in energy/natural resource law.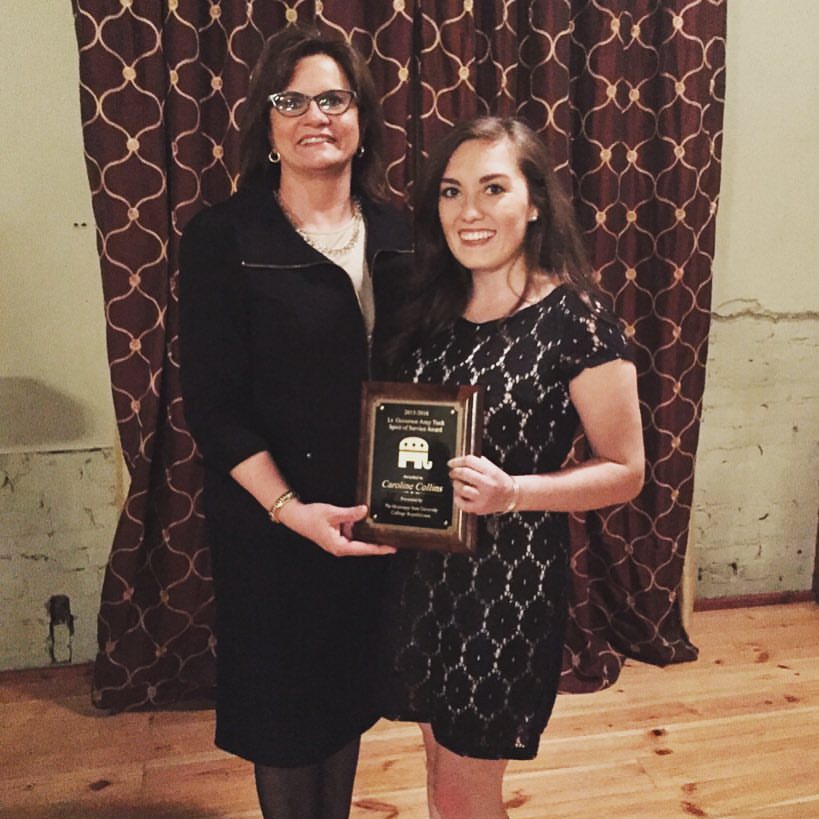 Caroline Collins (pictured above with Amy Tuck) of Bay Saint Louis is a recent Stennis alumnus. An inductee into the Society of Scholars, Caroline maintained a 4.0 GPA each semester. She was a member of Kappa Delta Sorority, Phi Kappa Phi Honor Society, the National Society of Collegiate Scholars, and MSU Involvement Ambassadors and is a former President of the Stennis-Montgomery Association and the Mississippi State Freshman Class. She served as Senator of the College of Arts and Sciences, Chairman of the Mississippi State College Republicans and Chairman of the Mississippi Federation of College Republicans. Additionally, Caroline served as a United States Senate Page for Senator Thad Cochran, an intern for US Congressman Steven Palazzo, and studied in Rome. After being selected to attend the AIPAC Policy Conference in D.C., Caroline was chosen for an expenses-paid trip to Israel where she learned about the intricacies of the U.S.-Israel alliance. In her last semester at MSU, Caroline became the first recipient of the Lt. Governor Amy Tuck Spirit of Service Award for her work in rebuilding the MSU chapter of College Republicans. Caroline is starting her second year of law school at Washington University School of Law in Saint Louis. She finished her first year as an Honor Scholar, and interned in the U.S. Attorney's Office for the Southern District of Illinois working in the civil division that summer. She is serving as a Staff Editor for volumes 95 and 96 of the Washington University Law Review.
One of our Bill Collins alumni is Brian Pugh, pictured above. As the Deputy Executive Director of the Mississippi Department of Finance and Administration, Dr. Pugh manages 6 of the 19 offices in the Department. Previously, he served as Director of Finance for Governor Phil Bryant, and before that as a Budget Analyst for the Legislative Budget Office of the Mississippi Legislature. After receiving his BA in Political Science and his MPPA degree from MSU, he earned a PhD from Jackson State University. As an undergraduate Collins Scholar, Brian was President of the Pre-Law Society, and was active in the Stennis Montgomery Society and in Pi Sigma Alpha.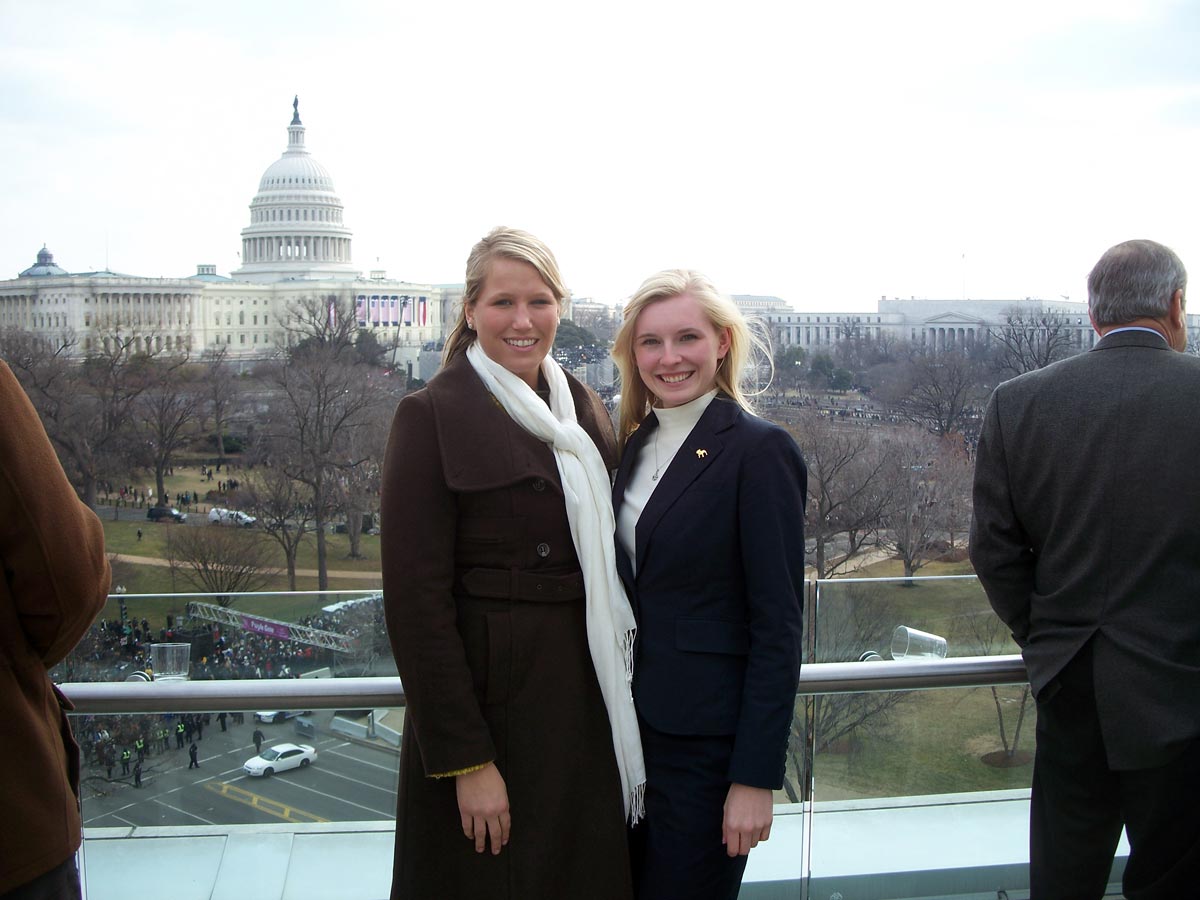 Stennis Scholar alumni Whitney Holliday and Shelley New enjoyed a view of Washington, D.C., while attending the inauguration of President Obama as students as part of the Stennis-Montgomery Association's annual D.C. trip. They are shown in the photo above.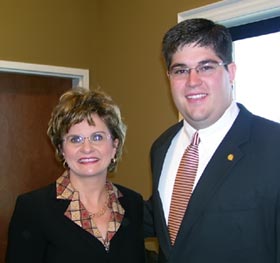 Students in our department have the opportunity to meet prominent public officials, such as the governor and lieutenant governor. In the photo above, Stennis Scholar (now alumnus) and SA Vice President Lee Weiskopf met with 2-term Lieutenant Governor Amy Tuck, a graduate of our department.
In the picture above, Barbour Scholars (now alumni) Jane Anna Harris and Tonya Thorton-Neaves pose with 2-term Governor Haley Barbour after a breakfast with him and the MSU President. Barbour offered the students invaluable advice about networking and job hunting in Washington, D.C. After graduation, Jane Anna served as the Staff Director for the Senate Agriculture Committee, and Tonya is a Research Fellow and Project Coordinator at the Social Science Research Center at MSU.
One annual conference that some of our students attend is the Southern Women in Public Service program sponsored by the Stennis Center. In the photo above, Stennis Scholar (now alumnus) Tamikia Carr met with then-Vice President Al Gore's wife, Tipper.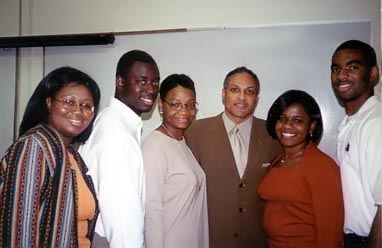 Our students also meet with numerous other public figures who visit our department. In the above photo, political science students (now alumni) Nikita Gandy, Ben Needham, and Ta'Shia Shannon (a Collins Scholar alumnus) are to the left of former Congressman Mike Espy. Espy was the first African-American from a rural district elected to Congress. Students Yashica Tate and Terrance James are to the right of Espy.
Our department's John C. Stennis Scholars are named in memory of MSU alumnus John C. Stennis, who served in the United States Senate from 1947 to 1988, rising to the powerful position of President Pro Tempore of the senate and fourth in line for the presidency. Senator Stennis also served as chairman of the powerful Appropriations Committee and previously as chairman of the Armed Services Committee. He was so respected in the senate that Congress named a new nuclear-powered aircraft carrier after him, which was commissioned into service before the carrier honoring former president Harry Truman. Because John Stennis inspired Mississippians to be active in public affairs, we include our department's Bill Collins (the founding director of the Stennis Institute of Government) and Haley Barbour (our two-term governor and a formidable Stennis challenger in 1982) scholars on this webpage.
To learn more about Senator John Stennis, click here.
The Haley Barbour Scholars are named after a distinguished public servant and native of Yazoo City who rose to the position of Chair of the Republican National Committee. As RNC Chairman, Haley Barbour inaugurated an aggressive fundraising, public relations, and candidate assistance program that led the GOP in 1994 to majority control of both houses of Congress for the first time in 40 years. Barbour was elected Governor in the 2003 state elections, when for the first time Republicans won half of Mississippi's statewide executive offices as well as historically high percentages of state house and state senate seats. When Barbour was re-elected governor four years later, he swept his party to control of every statewide elected office with one exception.
The Bill Collins Scholar is named after a distinguished educational leader, who was the first Director of the John C. Stennis Institute of Government at Mississippi State University. A Bill Collins Speakership series was established in his honor in the MSU Library.
The Tip Allen Scholars are named after retired (now deceased) professor Tip H. Allen Jr., whose decades of teaching political science at MSU helped so many of our students that he was awarded the department's outstanding teaching award on two occasions. One student whom he mentored went on to become an MSU President (Dr. Malcolm Portera, who then became the Chancellor of The University of Alabama System).
The Marty Wiseman Scholars are named after retired professor Marty Wiseman, a Mississippi native who earned four degrees at MSU and who directed the Stennis Institute of Government for two decades.
The Charles Menifield Scholars are named after former professor Charles Menifield, a Mississippi native who earned a BA in political science and an MPPA degree from MSU, and who rose to the position of academic Dean at Rutgers University.